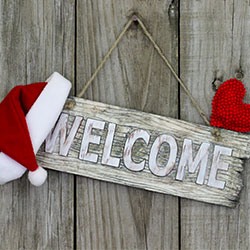 Your Perfect Christmas in the Mountains!
You've just stepped off the plane after landing in the majestic Tetons in Jackson WY. You can see your breath as you walk toward the terminal to get your bags and are exhilarated at all that lies ahead. Christmas Vacation in Jackson Hole Wyoming! You've got the whole family coming in, there's skiing to do, packages to wrap and delicious food to eat.
You drive up to your vacation home; anticipation and excitement in the air! Excited at how wonderful this vacation will be and anticipating a great Christmas with your family!
UP the driveway you go and what greets you? Twinkling lights all around the exterior of the house, fresh green swags and a beautiful red bowed wreath on the door. What a beautiful sight! What a welcome!
You hold your breath as you open the front door . . . not quite sure what you're going to see . . . and there it is . . . in all it's splendor. The majestic Christmas Tree; completely decorated and beautifully lit – just waiting for packages to be placed under it. And oh look, the fireplace! Stockings are hung and the mantel is decorated and lit as well. It's like a dream come true!

This could be You! We at Snake River Flowers have the privilege of fulfilling this dream for many people: whether you're traveling to Jackson Hole to enjoy a well earned vacation in the Mountains, or are a Business owner looking to make your store or office look amazing. The designers at Snake River Flowers have years of experience decorating homes and businesses at Christmas for those who just simply don't have time . . . or want a particularly spectacular and creative look!
Christmas can be such a stressful time. Take the stress out and make it Your time with your family or employees! Let us do the work – both inside and out! You really shouldn't be up on that ladder anyway should you?   Let our experts make this a very special time for you and yours!
It's never too early to reserve time on our calendar for your unique and special Christmas Decorations, either exterior, interior or both!
We provide the decorations, use yours or do the shopping for you. Let us help you have a truly Merry Christmas! Call today!